We're outta here. At 1:00 on Saturday, July 29th Joni and I left the Roaring Fork Valley to begin our sojourn to Nepal. It has been an intense few weeks to get to this point of departure; finishing all the last minute touches on our house and turning it over to our friends and new occupants, and then living with friends and family for a week.
Packing for the trip while cleaning the house was a checker game moves, shifting piles of old/new, keep/discard, cleaning the house section by section, packing bags, moving furniture, cleaning another spot, and so on and on. There was the Nepal pile, the US travel pile, the storage pile, the work pile and the final business pile. Moving things around had it's ups and downs as things were NOT always where I remembered them to be last. Fortunately nothing important has been lost (and least not that I know of).
The most heart wrenching good-bye was to our dog Beau. He is the sweetest dog on the planet. I'm positive of that 🙂 He has had many chapters and many homes in his life. While we torn about leaving him, we know that he is in good hands; continuing to live at our house with caring people. Not only does he have the new residents (Ben and Namrata) to take care of him but he also has the caring eyes of Luanne who lives in our apartment. I've never met anyone as focused on animals and their welfare as she is.
Thanks to our friends and family, we had places to stay in Glenwood and Carbondale after we turned over our house on the 23rd. It was a challenge to live in a temporary location with things in the car, still at our house, and in our temporary residences. More challenging than the things were the mental "things" we had to juggle and complete. There was tying up the business of our home, health work, finances and community. All required more concentration and energy than the physical "things" we had to pack. Banking, insurance, selling the car, working, Dr's appointments and prescriptions – were all things that had to be done in person.
Our last goodbyes from the Valley were woven in to the Carbondale Mountain Fair festivities.
We had a chance to see the annual, summer, rainbow-of-tie-dye arrive, visit the vendors, see friends and family for last good-byes and watch some great music.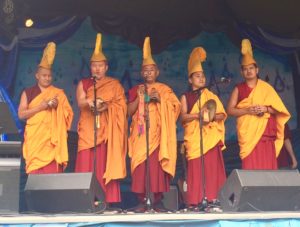 It felt fitting and fortuitous that we were present for the blessing of the Fair, provided by the Ganden Sechen Monks. They come to our Valley every summer to deliver teachings and familiarize people with the culture (and the plight) of Tibet. It is connections like this that inspired our trip to Nepal to serve the nuns at Tsoknyi Gechak Ling Monastery.
Right after the blessing we were treated to music by our friend Frank Martin. Frank's music and the songs that he writes, while they sound like classics, tell a the story of the people land and events of our time. 
The song, "Blue on Blue" is special to me as it was written about Alaska on a trip that Joni and I shared with Frank's wife Paula and him. It tells the story of diverse people, traveling on a ferry to Valdez. Similar to the song, I can imagine Joni and I on buses, trains and planes, talking with new people from all over the world, sharing a brief moment in time, and realizing how similar and connected we are.
After the Fair, we wedged Frank into our RAV4 in and amongst our packed bags and boxes. This first leg of our trip – to Colorado Springs – took us to Joni's mom's house. We exiting the Valley over Independence Pass, where we got to wave goodbye to the Colorado Mountain jewels. The narrow road was a foreshadowing of the roads we will travel in the Himalayas, winding around corners, with deep canyons dropping off the side. Here we go…